Sales, Service and Breakdowns of High Speed Doors 
Rapid Roll Maintenance is proudly family owned and run.
All of our employees are highly skilled and many have been here from the beginning.
Since being established in 1999 Rapid Roll Maintenance have quickly gained a reputation as the most knowledgeable and hardworking Industrial Door install and maintenance company in the industry. 
We can provide tailored individual solutions for your facility including;
Preventative Maintenance programs
24Hr / 7 Days a week breakdown service
Sales of Rapid Doors
Service of Dock Levelers
Service of Vehicle restraints
Sales of Roller shutters
Installation of All doors

FREE Inspection & Report – Contact Us Today!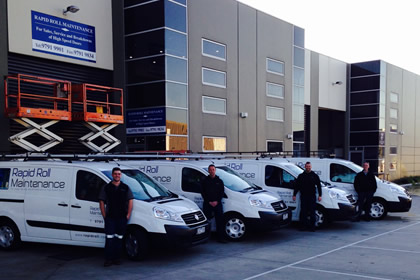 About
Us
READ MORE
Our
Capabilities
READ MORE
Free
Inspection
READ MORE